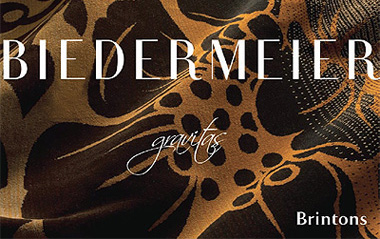 Jonette Slabey learned of Biedermeier: the Invention of Simplicity at the Milwaukee Art Museum just eleven months prior to its opening at a preview presentation by curator Laurie Winters. Impressed by the contemporary images from almost two hundred years ago, Slabey saw a unique opportunity for crossover into the architectural and design arena through the development of products inspired by the Biedermeier Exhibition.
Collaboration would give the Milwaukee Art Museum an opportunity to leverage the exhibition and create passive income, while increasing visibility within the A & D community and companies that serve it. In return, chosen companies would benefit from association with world-class museums as the exhibition traveled from the Santiago Calatrava designed Milwaukee Art Museum to the Albertina in Vienna (the exhibition's originating institution), the Deutsches Historisches Museum in Berlin and finally concluding at the Musee du Louvre in Paris.
This was a marketing dream for companies with vision. The museum liked the idea and a close partnership began: Slabey sought out companies and brought them to the table, while Gwen Benner, Senior Director of Business Enterprises at the Milwaukee Art Museum negotiated contracts.
Architex Contract Textiles was the first company on board. Known for its Homage Collections which tribute past artists and periods with a modern twist, this company was a perfect fit. Bonnie Momsen Brill, Vice President of Marketing, "immediately grasped the concept's inherent marketing opportunity," says Jonette Slabey. "Product designers and mills worked against the clock to meet the short deadline."

The result is an impressive collection that was previewed with a champagne reception at the Milwaukee Art Museum and unveiled in May at the 2007 Hospitality Design Expo in Las Vegas. The sumptuous fabric designs have since won a NeoCon Gold Award and been featured with the museum in an article entitled 'Biedermeier is Back' in the June issue of Metropolis magazine.

Brintons, the world's leading producer of custom woven Axminster carpet unveiled its major new collection of custom carpet designs, entitled Biedermeier, during a special presentation at the Milwaukee Art Museum on February 12, 2008, with additional receptions scheduled in Atlanta, New York, and London. The broad scope of designs, presented through renderings and dramatic photography in four colorful catalogs, are suitable for a wide variety of commercial interiors and can also be adapted in color and scale to meet actual project criteria.
Brintons and Architex have coordinated patterns and colorways to give specifying interior designers and architects a multitude of choices. Both companies have done extensive advertising and marketing in major design magazines, and with the combined efforts of their international sales forces dynamically promoting both products and the museum, this 'Biedermeier Inspired' collaboration will mutually benefit all involved for years to come.

As the curator of the exhibition, it has been a pleasure to see the influence of the exhibition lead to such a commercial success. It is especially fitting that this influence should happen with Beiedermeier designs ... I am pleased to say that our collaboration with you has been especially rewarding. We have greatly enoyed your enthusiasm, spirit, and drive, and I am proud to be part of such an endeavor between the museum and the marketplace.



Laurie Winters
Curator of Earlier European Art
and Curator of the Biedermeier Exhibition


The Milwaukee Art Museum




Many people are to be thanked for their part in implementing this successful collaboration:

Milwaukee Art Museum: www.mam.org
Laurie Winters, Curator of Earlier European Art and
Curator of Biedermeier: The Invention of Simplicity
Gwen Benner, Senior Director of Business Enterprises
David Gordon, Director
Elysia Borowy-Reeder, Senior Director Communications

Architex-ljh International: www.architex-ljh.com
Keith Gordon, Founder, CEO
Bonnie Momsen-Brill, Vice-President of Marketing
Michael Brill, CFO
Lauren Williams, Marketing Associate

Brintons: www.brintons.net/commercial
Jonathan Young, CEO of Brintons Americas
Jonathan Bain, Global Design Director
Mark Page, U.S. Design Director
Rebecca Johnstone, Senior Designer - New York
Johnny Massey, Marketing Manager
Scott Ivins, Marketing Specialist
Jean Mitchell, Public Relations

All Architex and Brintons sales representatives who are working tirelessly to present these beautiful 'Beidermeier Inspired' collections to designers, architects and end-users throughout the world.

DOWNLOAD THE JANUARY 2008 PRESS RELEASE
DOWNLOAD THE FEBRUARY 2008 PRESS RELEASE