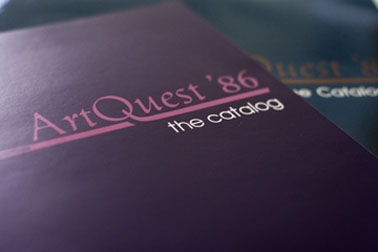 Jonette Slabey founded ArtQuest, Inc. in 1984 as a forum to expose
emerging and established artists to some of the most prominent
curators and directors from the finest art institutions in the country.
Once the artists were selected, ArtQuest initiated a three-part process
to enthusiastically promote them through color catalogs of their work,
traveling video exhibits and major exhibitions.


ArtQuest experienced stellar growth in four years, expanding its
offerings from one major exhibition in Los Angeles the first year to a
five-month traveling exhibition in Los Angeles, New York and Philadelphia;
the full color catalog grew to feature two hundred artists, as opposed to
eighty-four artists the first year, with commentary by critic Melinda Wortz;
the traveling video exhibit venues more than doubled; cash and purchase
awards were increased to $10,000; and a special preview day prior to
the jurors assembling assured thousands of artists exposure and
connections to art dealers, consultants, architects and designers.

A partial list of directors and curators from the following institutions
(at that time) who sat on panels for ArtQuest '85, ArtQuest '86,
ArtQuest '87 or ArtQuest '88 included:

Art Institute of Chicago - Ann Rorimer, Neal Benezra
Corcoran Gallery of Art - Ned Rifkin
Craft and Folk Art Museum - Edith Wyle, Patrick Ela
Los Angeles County Museum of Art - Howard Fox
Metropolitan Museum of Art - Dr. Lewis Sharp, Lowery Sims
Museum of Contemporary Art, Chicago - Bruce Guenther, Jacqueline Crist
Museum of Contemporary Art, Los Angeles - Elizabeth Smith,
Mary Jane Jacob, Ann Goldstein, Kerry Brougher
Museum of Modern Art - Deborah Wye
New Museum of Modern Art - William Olander, Lynn Gumpert
Newport Harbor Art Museum - Paul Schimmel
Parsons School of Design - Donna Byars
San Francisco Museum of Modern Art - Graham Beal
Smithsonian American Art Museum - Dr. Elizabeth Broun
Solomon R. Guggenheim Museum - Susan B. Hirschfield
University Art Museum, CSU Long Beach - Constance Glenn
Whitney Museum - Patterson Sims, Barbara Haskell